Rites of Spring is a poster by renowned American artist Victor Moscoso (b.1936) advertising a concert held on 1 April 1967 at Webbs in the Stockton Hotel, Stockton, east San Francisco, California. It featured pop groups The Cloud and The Plastic Explosion, now known only from their appearance on the poster. Rites of Spring is one of the iconic Neon Rose series of posters produced by Moscoso between 1966-1968. They were distinguished by the use of vibrant colours juxtaposed so as to seemingly vibrate, and an almost unintelligible font which seeks to expand upon, and blend in with, the surrounding images on a single plane. Neither image nor text dominates. Rites of Spring is quintessentially psychedelic and instantaneously reminiscence of San Francisco during the Summer of Love of 1967.
Victor Moscoso, Rites of Spring / The Cloud,
Neon Rose series #11, 3-colour photolithograph poster,

1 April 1967.
The title
Rites of Spring
above the band names refers to an event originally organised in February 1967 by the Diggers and Artists' Liberation Front (Perry 2005). Also known as "The Invisible Circus", the event was to be 72 hours of non-stop happenings at a number of venues in San Francisco. It centred around a street fair in the vicinity of the Glide Memorial Church in Haight-Ashbury, and included poetry readings and performances by bands such as Big Brother and the Holding Company and the Grateful Dead. The actual performances in the church were bathed in a lightshow of pulsing reds and purples, much like Moscoso's poster. The Rites of Spring / Invisible Circus festival was cancelled after one day. Its the relationship with the later 1 April performance at Stockton is unclear, though Perry in his history of Haight-Asbury refers to Moscoso's production of a poster for the original event. Moscoso maintained a close connection with the area through to the end of the decade, producing posters for the local radio station KMPX and even for the annual cleanup of the Haight-Ashbury area by the public.
The April 1967
Rites of Spring
poster was number 11 in his Neon Rose series. It was originally printed in orange, red and blue on a slightly off-white, thickish paper measuring 14" x 19 3/4" (36 x 50 cm), using a multi-colour photolithography process. Standard inks were applied, as opposed to irridescent or dayglo, which were in favour at the time as artists attempted to replicate the psychedelic experience. Moscoso subverted this process by placing, side by side, colours of the same intensity from the opposing end of the spectrum to produce a shimmering edge effect. The viewer's visual focus was toyed with, and perfect adjustment of the eyes was never achieved. The red and blue light stimulated the eyes to a degree whereby the image perceived was as though vibrating.
The text of the poster read as follows:
Stockville Light Express Present / Rites of Spring / Tickets: 2246 N California St. Phone 658833 / The Cloud / The Plastic / Explosion / April 1 / At Webbs / Members Only / 9pm - 1am / c 1967 Neon Rose #11 / Moscoso.' Copyright Victor Moscoso.
The process of preliminary drawing, preparation of proofs and printing for this and other posters in the
Neon Rose
series is described by the artist in an extensive interview with Gary Groth for
The Comic Journal
, recorded during 2002 and made available online in 2011 (Groth 2002). Much of it was repeated in a 2009 interview with Michael Erlewine for Classic Posters (Erlewine 2009).
Rites of Spring
was produced less than twelve months after Moscoso's first tentative foray into the field of rock concert poster design, and just five months after he took it up in earnest. This followed on an extensive career in commercial graphic design and as a demonstrator in lithography at the San Francisco Art Institute. The
Rites of Spring
poster - Moscoso's 27th such work - features an image of two birds behind a satyr and a nymph, along with descriptive text describing aspects of the concert at Webbs. The artist used a photographic collage process to create the central motif, extracting images from a published source and enlarging them for reproduction within the poster, to a degree whereby the collage effect is almost indistinguishable from an original drawing. The dotted texture is a printing artefact. Sex, optical illusion and rock are elements of
Rites of Spring
, and common themes throughout Moscoso's subsequent career. He has been cited as the first of the San Francisco rock poster artists to use photographic collage, and this is true, though he only did so to a limited degree, producing five such posters, and of which
Rites of Spring
was one example. The use of collage reflects Moscoso's study of art history and knowledge of the pioneering work of the Dada and Surrealist artists from the 1910s and 1920s. One of the most famous of these was the German Max Ernst, who published three landmark books of Surrealist collage in the early 1930s. His alter ego in those publications was
Loplop
, a bird-headed figure of a man involved in various sado-masochistic pursuits.
Martin Sharp, Max the Birdman Ernst, 1967
Moscoso's birds and satyr motif within
Rites of Spring
perhaps references, and is a homage to, the work of Ernst. Collage regained popularity with the rise of Pop Art after World War II, and was especially strong in both the United Kingdom and America. Richard Hamilton's 1956 collage for the catalogue of the
This is Tomorrow
exhibition held in London during that year is an iconic example. Likewise, Australian artist Martin Sharp's posters for the London firm Big O, and his work with the Australian and London editions of
OZ
magazine between 1963-71, carried on this tradition with the use of collage in a contemporary, often psychedelic framework. A good example is his
Max 'the Birdman' Ernst
foil poster of 1967 produced by Big O Posters of London. Aside from the use of collage, Moscoso's art during the Sixties was noted for its use of bright colours, vibrating effects and psychedelic imagery. The latter was associated with the consumption of psychotropic drugs such as LSD. Moscoso has noted in interviews the profound effect on him of such drugs. He felt they "re-wired" the psyche, allowing him to break free from the constraints of art school training and express an enhanced visual imagination. Moscoso's art was to see rapid and radical change during the years 1966-7 as a result.
Independent poster artist
Though born in Spain, Victor moved with his family to New York when just 3 years old and spent his formative years there, growing up in an environment of street gangs and hightened cultural activity. Victor's father was a professional house painter and taught his son a great deal about the use of colour, as did various teachers at the Cooper Union art school in New York City, at Yale University, and at the San Francisco Art Institute which he attended from 1959.
Josef Albers
, author of a classic colour theory text
Interaction of Colours
(1963) was one of Moscoso's Yale lecturers and an important influence, though the artist was not to realise this until much later. From the age of 16 Moscoso worked in graphic design and printing, such that by the time he moved to the west coast at the end of the 1950s, and shortly thereafter turned his attention to the production of rock concert posters, he had the requisite skills to make a mark in this relatively new and dynamic field of graphic design and psychedelic poster and album cover art. Moscoso was determined to produce specific event posters, as opposed to a more generic subject-based poster, due as much to his sense of history as anything else. He was also atune to the fact that there was an increasing awareness of the artistic value of such works, and the likelihood of their marketability as collectibles was real. Moscoso held these views in part as a result of his knowledge of the experiences of French artists such as Jules Cheret and Henri de Toulouse Lautrec who, during the 1890s, produced posters for the Moulin Rouge in Paris and likewise saw them quickly transformed from ephemeral advertisements to collectible works of art.
The poster
Rites of Spring
was self-produced by Moscoso and bore the copyright logo
Neon Rose
on the bottom left corner. This referred to the company he founded in December 1966 in an attempt to sidestep the commission process. Artists were generally paid a one-off fee for their work by promoters such as Chet Helms (Avalon Ballroom, San Francisco) and Bill Graham (Fillmore and Winterland, San Francisco and New York). The venue / promoter would then print and distribute the posters and retain copyright in the original artwork. The same promoters also limited the payment of royalties from subsequent merchanising opportunities such as t-shirts, books and reprints of concert posters, handbills, flyers and tickets. Artists rebelled against this at the end of 1966 and obtained a better royalty deal, however the system remained very much in favour of the financially astute Helms and Graham, whose estates to this day retain copyright in the what are now considered classic posters of the genre. Moscoso was the first of the San Francisco poster artists to go independent and set up his own business in poster design, printing and distribution. He created a system whereby he would either receive a fee for the posters he printed, whilst retaining copyright where he could, or offer the posters for free - on average 200 copies - to a venue such as the Matrix. Any extra he had printed he would sell himself and bank the profit. The retained copyright assisted with future reprints and commercial opportunities where demand arose. One such opportunity was a request during 1967 for the export to Australia of a collection of his posters. A number of the
Neon Rose
series also went into second and third printings, as did many similar posters from the Fillmore and Avalon Ballrooms. Printings were carried out by promoters, copyright holders and poster distributors such as the San Francisco Poster Company. Moscoso was not always successful in retaining his copyright, and this is seen with the posters he produced for the Family Dog between 1966-68 and with Rick Griffin for Bill Graham.
Rites of Spring
is number 11 in the
Neon Rose
series and was only ever the subject of a single print run. The success of the
Neon Rose
venture - which existed alongside Moscoso's work for venues such as the Avalon Ballroom and Webbs, and commercial design jobs for firms such as Neiman Marcus and Levis - enabled him to achieve a degree of financial stability for himself and his young family, whilst also artistically liberating him from the dictates of the promoters. Moscoso was free to develop a style according to his own taste, whilst keeping his eye on the marketplace. He had first produced a poster -
A Stone Facade
- early in 1966 for the Family Dog, promoting bands The Grass Roots and Big Brother & the Holding Company at the Avalon Ballroom on 3-4 June.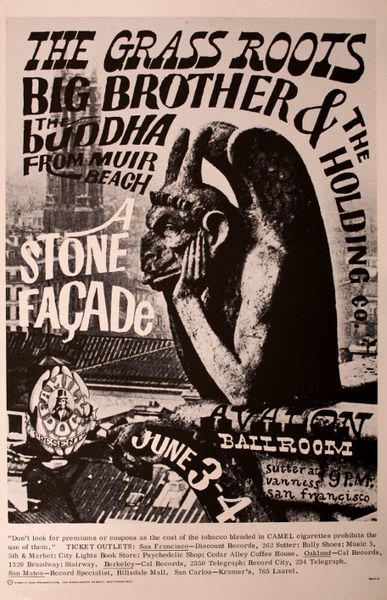 Victor Moscoso, Family Dog Presents - A Stone Facade, poster, 1966. Poster for a concert at the Avalon Ballroom, San Francisco, 3-4 June 1966, featuring The Grass Roots, Big Brother & The Holding Co., and The Buddha from Muir Beach.
Moscoso subsequently labelled this poster his greatest failure. It utilised a drab, monotone colouring and large, traditional, legible fonts, thereby failing dismally to stand out amongst the competing multicoloured posters which by that time were becoming common on the streets of San Francisco and nearby Berkeley. Moscoso subsequently took time out to reflect on the posters being produced by Wes Wilson, Stanley Mouse, Alton Kelly and others. As a result, he adapted his style by reversing all he had been taught in art school. This included dictums that he was not to use opposing colours which would produce edge vibrations; that he should ensure text was legible at all times; and he must always allow the central figure to dominate. Moscoso instead produced posters featuring the exact opposite - an almost unintelligible, balloon-like and curvaceous text - a Moscoso font is now part of the tools of all graphic designers - and bright, vibrating colours which made use of orange, blue, purple, pink, blue and green inks. The change in Moscoso's poster design over an approximate six months period during the latter part of 1966 was profound.
Rites of Spring
from April of the following year is very much typical of the style he developed with a great deal of success during the second half of the Sixties.
The Webbs at Stockton Commission
Moscoso produced two posters for concerts at Webbs, Stockton, on 1 and 14-15 April 1967 -
Rites of Spring
(Neon Rose #11) and
Skullface
(Neon Rose #13) . The bands featured - The Cloud, The Plastic Explosion and The Plague - are only known from these posters. Both events featured, and were presented by, the Stockville Light Express. Webbs had initially been set up as a rock music venue by Brian Eppes in February 1967. Over the following weeks a number of Eppes' friends came on board to assist with the staging, promotion and lighting, including Bob Pullum. The Stockville Light Express was operated by Eppes, but Pullum eventually took over light show responsibilities and went on to found the Brotherhood of Light. He was involved in its operation around the San Francisco area through to 1971, at venues such as the Avalon Ballroom, Fillmore West and the Winterland. Pullum subsequently left, however the Brotherhood of Light remains in operation to this day.
Victor Moscoso, Skullface, 14-15 April 1967, Neon Rose series #13, photoli

thograph poster

. Text: 'The Stockville Light Express Present / Death and Transfiguration : An Audio Chromatic Environment : Apr-14 Fri -15 Sat: 9-1pm : The Plastic Explosion : The Plague : At Webbs Stockton : 175 / Ticket Pre-Sale 2346 N. California St., Stockton, California. Phone: 465 - 8833. Members Only, Please. / c 1967 Neon Rose #13 . Moscoso.' Copyright Victor Moscoso.
Pullam recalls how he and Eppes "...rode double on my motorcycle to San Francisco on a very rainy day to finalise the poster deal with Victor [Moscoso]" (Pullam 2012). This deal involved the commissioning of the two
Neon Rose
posters. They were designed and printed by Moscoso and delivered to the venue in the week prior to the event, thus enabling bill posting and associated promotional activities. A poster was often the only form of promotion for concerts at that time, with rock and pop music media very much in its infancy. Poster distinction and boldness when put up around town was therefore imperative. Moscoso aimed to make his posters stand out so that they were noticed and read, even if the text was near illegible. He also sought to have them viewed in venues under lightshow effects, and was happy to see them collected and preserved, or sold through print shops.
Moscoso briefly refers to the origin of the two Webbs posters on his website
Victor Moscoso: Master of Psychedelic Posters and Comix
. For
Rites of Spring
he notes: "From Stockton, CA, a light show company commissioned this poster which they paid for in wrinkled one dollar bills in a wrinkled brown paper bag." And for the poster he calls
Skullface
: "The Stockton light show wanted the title to read "Death and Transfiguration". Finding the skull, which prints in yellow, was the hardest part of the job." A description of
Skullface
from the catalogue of the
Victoria and Albert Museum
, London - where it is therein called
Death and Transfiguration
- highlights some of the unique qualities of Moscoso's work. It reads as follows:
"Psychedelic poster Neon Rose #13, 'The Stockville Light Express Present Death and Transfiguration', featuring an image of George Washington. The lettering announcing the event is highly stylised, and coloured pink on a blue background, reading (across the upper edge of the poster), 'The Stockville Light Express Present', and around an oval which fills the rest of the space and contains an image of George Washington, 'Death and Transfiguration : an Audio-Chromatic Environment: Apr-14 Fri -15 Sat: 9-1pm : The Plastic Explosion : The Plague : At Webbs Stockton : 175'. The central image shows a skull superimposed onto a picture of George Washington. The image of Washington is coloured green and red, and is photographic, but very grainy and made up of enlarged lithographic dots, as though taken from a newspaper print. The skull is less obvious, at first appearing as a pink highlighted area on the face, but when viewed with a colour wheel, the image is more clearly seen, and oscillates between the appearance of the President and the ghostly skull."
The juxtaposiition of skull and face by Moscoso harks back to German Dada and Surrealist artist John Heartield's powerful 1928 photomontage entitled
The Face of Fascism
, in which the head of Italian Prime Minister Benito Mussolini features, surrounded by his corrupt backers and their dead victims:
John Heartfield, 'Das Gesicht des Faschismus' [The Face of Fascism], photomontage, title page / cover of booklet
Italien in Ketten (Italy in Chains), KPD (German Communist Par

ty)

, July 1928.
The revelation of the dual, vibrating images when seen with the aid of a colour wheel was an effect Moscoso made reference to on a number of occasions. He was apparently unaware of it when he first began producing posters, but upon being notified by a fan who had set lights up in his house, Moscoso subsequently went on to replicate and enhance it on a number of occasions, seeking, for example, to make the posters come alive when subject to psychedelic light shows and strobe effects.
Legacy
Victor Moscoso is rightly considered one of the most important of American psychedelic poster artists from the Sixties. Either singly, or in collaboration with Rick Griffin, he produced posters and album covers for rock musicians and bands such as the Jimi Hendrix Experience, Janis Joplin with Big Brother and the Holding Company, the Grateful Dead and the Doors, amongst countless others. His work in the area of comics during the 1970s and collaboration therein with Griffin and Robert Crumb has ensured that his art remains well known and appreciated on a variety of fronts. He is represented in galleries such as the Museum of Modern Art, New York, the Louvre, Paris and the Victoria and Albert Museum, London. The elderly Moscoso continues to produce posters and works of art from his home in California, whilst his psychedelic vision remains highly influential, with examples included in exhibitions and definitive texts on the genre. Whilst the two Webbs posters may not be amongst the most famous from that era, the same cannot be said for the
Neon Rose
poster #12
The Chambers Brothers
produced for Marty Balin's Matrix nightclub and completed by Moscoso in a six hour period on the same night as
Rites of Spring
. It is one of many such iconic works by the artist.
Victor Moscoso, The Chambers Brothers, Neon Rose series #12, 3-colour photolithograph poster, 1967.
The cover of the March 2012 edition of the magazine
The Advocate
is testament to his continuing influence, replacing as it does the anonymous female face of 1967 with that of pop star Madonna, in a homage to Moscoso's landmark poster.
This retro image is also indicative of the renewed interest in psychedelic art and use of the vibrant colours from the period in graphic design and fashion. The art of Victor Moscoso lives on.
References
Erlewine, Michael, The Neon Rose of Victor Moscoso [blog], 20 December 2009, available URL:
http://michaelerlewine.com/
. Accessed 14 February 2014.
-----, Classic Posters interview with Victor Moscoso [transcript], n.d. (2009), available URL:
http://dharmagrooves.com
. Accessed 16 February 2014.
Groth, Gary, Interview with Victor Moscoso,
The Comics Journal
, 246, 2002.
TCJ Archive
[website], available URL:
http://www.tcj.com/an-interview-with-victor-moscoso/
. Accessed 12 February 2014.
Grunberg, Christopher, ed.,
Summer of Love: Art of the Psychedelic Era
, Tate Gallery, London, 2005, 239p.
Neon Rose Poster
[website], available URL:
http://nugata.com/store/neon_rose_poster.html
. Accessed 14 January 2014.
Neon Rose Posters
[website], available URL:
http://sixtiesposters.com.neonrose1.htm
. Accessed 14 January 2014.
Olsen, Andrew, Victor Moscoso - the art of rock, Reader Weekly, The Fountainheads.com [webpage], available URL:
http://www.fheads.com/Victor_Moscoso.html
. Accessed 12 February 2014.
Owen, Ted,
High Art: a history of the psychedelic poster
, Sanctuary Publishing, 1999, 176p.
Perry, Charles,
The Haight Ashbury: A History
, Wenner Books, New York, 2005, 294p.
Psychedelic Poster Art: Victor Moscoso,
Transpersonal Spirit - Visionary Consciousness
[blog], available URL:
http://transpersonalspirit.wordpress.com/2012/11/10/psychedelic-poster-art-victor-moscoso/
. Accessed 14 January 2014.
Pullam, Bob,
Universoulightforms - History
[website], available URL:
http://universoulightforms.com/history/
. Accessed 12 February 2014.
Victor Moscoso - Master of Psychedelic Posters and Comix
[website], available URL:
http://www.victormoscoso.com
. Accessed 12 February 2014.
---------------------------------------------------------------------------------------------------------------------------
Victor Moscoso Posters 1966-69
The following list is arranged chronologically and deals primarily with Moscoso's psychedelic rock concert posters for venues such as the Avalon Ballroom and Matrix in San Franscisco. The relevant codes e.g. FD-11, are standard references to the catalogued listing of such poster designs and their associated postcards and handbills.
| | |
| --- | --- |
| 03-June-1966 | A Stone Façade - Avalon Ballroom - Family Dog FD-11 |
| 28-October-1966 | Skating Chicken - Avalon Ballroom - Family Dog FD-32 |
| 25-November-1966 | Quicksilver Messenger Service - Avalon Ballroom - Family Dog FD-36 |
| 30-November-1966 | The Blushing Peony Store ad - Neon Rose #17 |
| 30-November-1966 | San Francisco Art Institute - Neon Rose #18 |
| 09-December-1966 | Big Brother & the Holding Company - Avalon Ballroom - Family Dog FD-38 |
| 20-December-1966 | Steve Miller Blues Band - Matrix - Neon Rose #0 |
| 23-December-1966 | The Grateful Dead - Avalon Ballroom - Family Dog FD-40 |
| 27-December-1966 | Junior Wells Chicago Blues Band - Matrix - Neon Rose #1 |
| 06-January-1967 | Quicksilver Messenger Service - Avalon Ballroom - Family Dog FD-42 |
| 10-January-1967 | The Miller Blues Band - Matrix - Neon Rose #2 |
| 17-January-1967 | Big Brother & the Holding Company - Matrix - Neon Rose #3 |
| 20-January-1967 | The Miller Blues Band - Avalon Ballroom - Family Dog FD-44 |
| 31-January-1967 | Big Brother & the Holding Company - Matrix - Neon Rose #4 |
| 03-February-1967 | Country Joe and the Fish - Avalon Ballroom - Family Dog FD-46 |
| 09-February-1967 | Sopwith Camel - Matrix - Neon Rose #5 |
| 10-February-1967 | Sphinx Dance - Avalon Ballroom - Family Dog FD-47 |
| 13-February-1967 | Blues Project - Matrix - Neon Rose #6 |
| 17-February-1967 | The Only Alternative - Matrix - Neon Rose #7 |
| 24-February-1967 | Moby Grape - Avalon Ballroom - Family Dog FD-49 |
| 28-February-1967 | Otis Rush - Matrix - Neon Rose #8 |
| 03-March-1967 | The Doors - Avalon Ballroom - Family Dog FD-50 |
| 03-March-1967 | Wildflower - Matrix - Neon Rose #9 |
| 07-March-1967 | The Doors - Matrix -Neon Rose #10 |
| 10-March-1967 | Quicksilver Messenger Service - Avalon Ballroom - Family Dog FD-51 |
| 22-March-1967 | The Quicksilver Messenger Service - Avalon Ballroom - Family Dog FD-53 |
| 31-March-1967 | Big Brother - Avalon Ballroom - Family Dog FD-55 |
| 01-April-1967 | The Cloud - Webbs Stockton -Neon Rose #11 |
| 04-April-1967 | The Chamber Brothers - Matrix -Neon Rose #12 |
| 14-April-1967 | The Doors - Avalon Ballroom - Family Dog FD-57 |
| 14-April-1967 | Skullface - Webbs Stockton - Neon Rose #13 |
| 28-April-1967 | Chambers Bros - Avalon Ballroom - Family Dog FD-59 |
| 09-May-1967 | The Sparrow - Matrix - Neon Rose #14 |
| 12-May-1967 | The Doors - Avalon Ballroom - Family Dog FD-61 |
| 01-June-1967 | Doors - Avalon Ballroom - Family Dog FD-64 |
| 15-June-1967 | The Youngbloods - Avalon Ballroom - Family Dog FD-66 |
| 29-June-1967 | Quicksilver Messenger Service - Avalon Ballroom - Family Dog FD-68 |
| 30-June-1967 | Moore Gallery - Neon Rose #25 |
| 06-July-1967 | Miller Blues Bad - Avalon Ballroom - Family Dog FD-70 |
| 08-August-1967 | Canned Heat - Waikiki Shell - Neon Rose #16 |
| 10-August-1967 | Moby Grape - Avalon Ballroom - Family Dog FD-75 |
| 15-September-1967 | Youngbloods - Avalon Ballroom - Family Dog FD-81 |
| 06-October-1967 | Vase of flowers - Avalon Ballroom - Family Dog FD-86 |
| 30-November-1967 | Pablo Ferro Christmas Card - Neon Rose #22 |
| 30-November-1967 | Hand, eye and butterflies Neon Rose #26 |
| 08-December-1967 | Jim Kneskin (left) - Avalon Ballroom - Family Dog FD-95 |
| 08-December-1967 | Jim Kneskin (right) - Avalon Ballroom - Family Dog 95 - daybill 13 - D13 |
| 01-January-1968 | Big Brother at PGE |
| 02-February-1968 | The Electric Flag - Avalon Ballroom - Family Dog FD-104 |
| 08-June-1968 | Poetry - Neon Rose #24 |
| 28-June-1968 | The Who and Fleetwood Mac - Shrine Auditorium |
| 10-October-1968 | Jimi Hendrix #1 (with Rick Griffin) - Bill Graham 140 |
| 17-October-1968 | Jimi Hendrix #2 (with Rick Griffin) - Bill Graham |
| 31-December-1969 | Clean-in - Haight-Ashbury - Neon Rose #15 |
| 31-December-1969 | Steve Miller promo - Neon Rose #23 |
| 31-December-1969 | Neiman Marcus - Neon Rose #21 |
| 31-December-1969 | KMPX Radio Station - Neon Rose #20 |








Michael Organ




Last updated: 15 July 2015